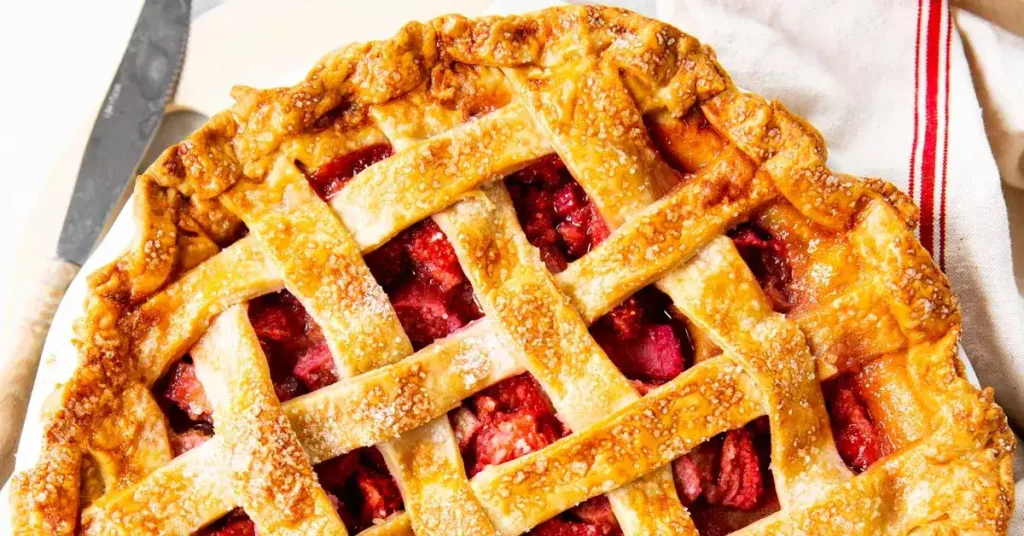 Preparation Time: 20-40 minutes
Cooking Time: 45-55 minutes
One double-crust 9-incb Pie
Pastry
5 1/2 cups flour, all-purpose
2 teaspoons salt
1 pound lard
1 tablespoon vinegar
1 egg, lightly beaten
water
Pastry yields 3 9-incb double-crust Pies or 6 pie shells. Unused pastry may be stored in refrigerator for 2-3 days or frozen.
Filling
4 cups fresh rhubarb (or frozen, thawed), cut in 1/2-inch pieces
1-1 1/2 cups sugar
3 tablespoons quick-cooking tapioca
1/4 teaspoon salt
1 tablespoon butter
Instructions
Preheat oven to 4250F. Mix together flour and salt. Cut in lard with a pastry blender, or 2 knives, until mixture resembles coarse breadcrumbs.
In a 1-cup measure, combine vinegar and egg. Add water to make 1 cup. Gradually stir liquid into dry ingredients but do not press mixture together. Add only enough liquid to make dough cling together. The amount will vary.
Gather into ball and divide into 6 portions. Reserve 2 portions for rhubarb pie and refrigerate for 10 minutes while preparing filling. (Wrap unused portions and refrigerate until required or freeze.)
Mix together rhubarb, sugar, tapioca and salt.
Take 2/3 of dough and pat into circle. Roll out pastry, keeping circular shape, until half-inch larger than pie plate. Place loosely in 9-inch pie plate and trim even with rim. (Do not stretch the pastry).
Roll out remaining pastry for top crust, making it inch larger than pie pan. If preferred, pastry may be cut in strips for lattice crust.
Fill bottom crust with pie filling; dot with butter. Wet edge of bottom pastry to ensure 2 crusts seal. Cover with top pastry. Fold edge of top pastry under edge of bottom pastry. Flute edges together with thumb and forefinger.
For whole crust, cut 2 or 3 slashes in centre of to allow steam to escape. Brush pastry with cold and sprinkle lightly with sugar (optional).
Place pie in oven at 425F for 15-20 minutes, or until pastry is golden. Reduce heat to 350F and continue baking 30-40 minutes or until rhubarb is tender.