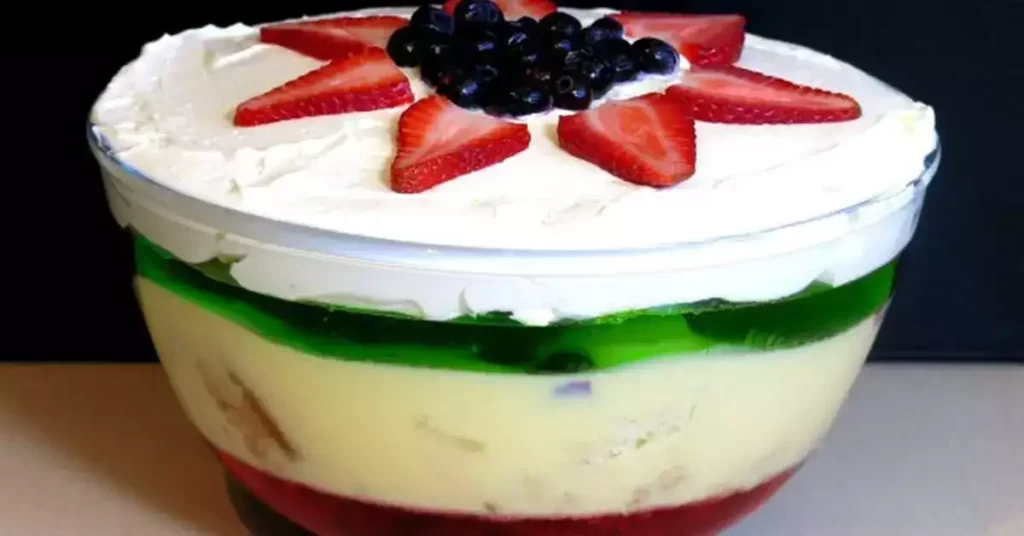 1 pkg. white cake mix
1 pkg. vanilla pudding (or Custard)
1/2 pkg. green jelly powder
1/2 pkg. red jelly powder
2 pkgs. strawberries
1 pkg. dream whip

Bake 2 cakes from cake mixture. Mix jelly powder according to directions, Mix vanilla pudding according to directions. Place 1 cake into a deep bottom dish, Saturate the cake with the green jelly mixture, Slice some strawberries over this layer until covered. Pour 1/2 the vanilla pudding (or Custard) over the strawberries. Place remaining cake on top of this and repeat using the red jelly mixture, strawberries and vanilla pudding, Mix dream whip as to directions and spread over the cake. Top with sliced strawberries. Decorate with green mint candy leaves or berries. Refrigerate.