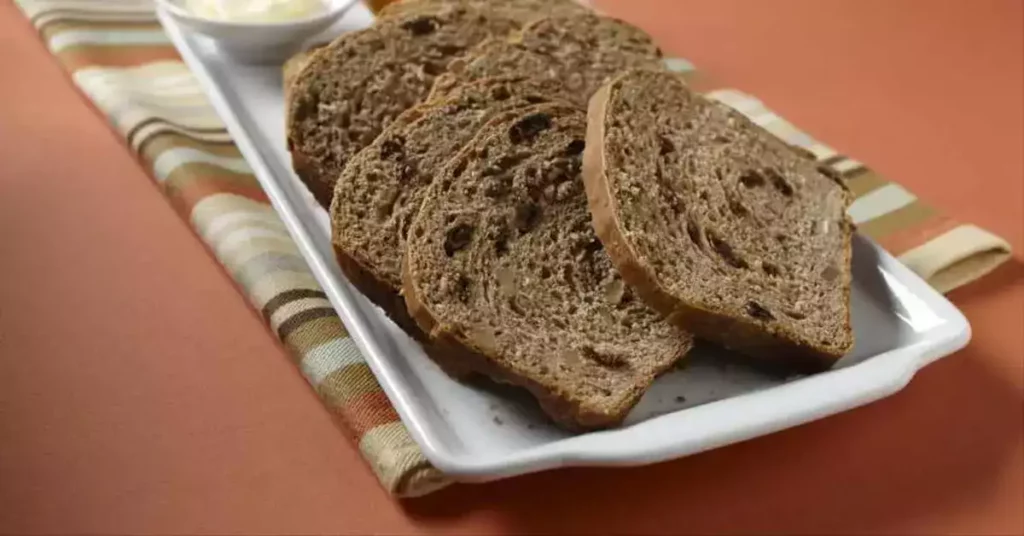 1 tsp sugar
1/2 cup lukewarm water
1 pk active dry yeast
2 1/2 cups milk or water
1/4 cup butter
1 tbsp salt
1/2 cup molasses
6-7 cups flour (all-purpose)
2 tsp cinnamon
1 tsp mace
1 tsp cloves
4 cups raisins
Dissolve yeast in lukewarm water to which sugar has been added. Leave undisturbed for 10-15 minutes until yeast is bubbly. In saucepan, heat milk with butter and salt until butter melts; let cool too lukewarm. (Important: too high heat will kill yeast). In large mixing bowl, combine molasses, yeast mixture and 3 cups flour, spices and raisins. Beat with wooden spoon 2-3 minutes. Continue adding flour until moist soft dough is formed. Place on flat surface and knead for about 10 minutes until dough becomes smooth and elastic. (Add more flour if dough sticks to surface.) Place in a lightly oiled bowl in a warm place until doubled in bulk (1 1/2-2 hours).
Divide dough in half and shape to form 2 loaves, making them smooth on surface. place in 2 greased 9×5 inch loaf pans and allow to rise again until doubled (1-2 hours). Loosely cover pans with a clean damp cup towel. Bake in preheated 370 degrees F oven, until loaves are browned and give a hollow sound when tapped (about 1 hour). Brush tops of loaves with melted butter while hot. Makes 2 loaves.