"Newfoundland pea soup with dumplings is a beloved dish that warms the hearts and satisfies the appetites of Newfoundlanders. This hearty soup is made from split yellow peas, simmered with savory vegetables such as carrots, onions, and celery, and seasoned with salted pork or ham. The result is a thick and flavorful soup that is both comforting and nourishing. The addition of dumplings, made from a simple mixture of flour, baking powder, and milk, adds a delightful texture and substance to the dish. Newfoundland pea soup with dumplings is a staple in many households, often enjoyed on cold winter days. It embodies the culinary traditions and resourcefulness of Newfoundland, providing a hearty and satisfying meal that brings people together."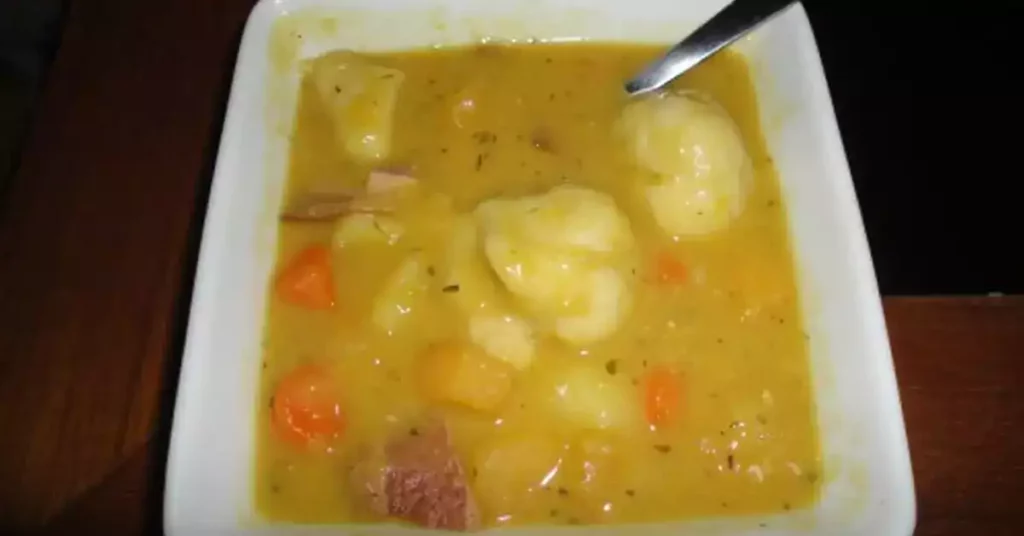 1 gallon of water
1 1/2 lbs. of split peas
1 piece of salt beef (or you can use a Ham Bone with some meat on it)
1 lb. of diced onions
1 lb. of diced turnip
1 lb. of diced carrot
1/2 lb. diced celery
1/2 lb. diced parsnip
1 lb. diced potato
Note: Split peas and salt beef are to be soaked in cold water overnight. (If using Ham Bone just soak the split peas)
Place the salt beef in a pot, cover in hot water and simmer for 1 1/2 hours. Check water, if too salty, pour some out and add fresh water. Remove salt beef and add split peas to the water, add more if water needed. Cut beef in bite sized pieces and return to pot. If using ham bone just put ham bone, split peas and water in a pot.
Simmer till peas is well done. (Approx. 1 hour.) Stir the soup frequently. Add the vegetables and cook until tender. Season to taste.
Dumplings
Dumplings are served with stews, Jiggs dinner, and pea soup. (When cooked with Jiggs dinner, you can add raisins.)
2 cups of flour
2 tsp. baking powder
1/2 tsp. salt
2 tbsp. margarine
3/4 cup water or milk
(1/2 cup of raisins, optional)
Mix together flour, baking powder, and salt in a mixing bowl. Cut margarine into the flour until the mixture looks like fine crumbs. Stir in milk or water. (Add the raisins.) Drop the dough into the stew, soup, or Jiggs dinner by spoonful. Boil uncovered for 10 minutes. Cover and cook for 10 more minutes. Serve with the dinner.